Button Up Vermont Day of Action!
Volunteer on October 5th for the Button Up Vermont Day of Action!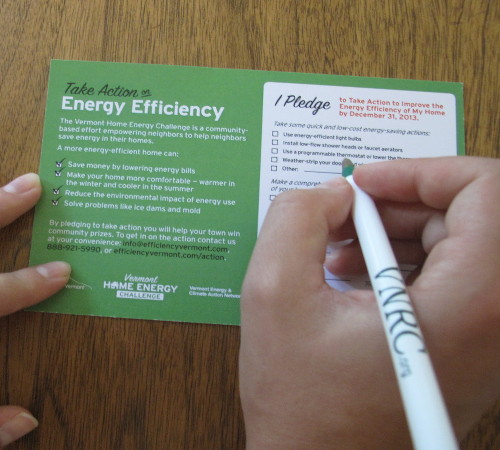 On October 5th, communities across Vermont are organizing events to motivate their friends and neighbors to retrofit – a.k.a. weatherize – their homes.  To succeed, these communities need volunteers to help in a local "Button Up" energy efficiency action.
"Making homes and buildings more energy efficient saves money, saves energy, increases comfort and is a powerful way to reduce the greenhouse gas emissions that are driving climate change."
–Johanna Miller ,Energy Program Director, Vermont Natural Resources Council
"Button Up Vermont!" Day of Action will be the first-ever statewide day of action focused on motivating friends and neighbors to weatherize their homes.  Modeled after Vermont's successful "Green Up Day," the goal of "Button Up Vermont Day" is to bring more people power to the 78 communities who are undertaking the Vermont Home Energy Challenge by mobilizing as many volunteers as possible in communities throughout the state to take steps — large and small — to help Vermonters stop wasting energy and money and reduce our contribution to climate change.
VECAN, in partnership with Efficiency Vermont, local organizers participating in the Vermont Home Energy Challenge, and Vermonters statewide, is matching volunteers with local communities who are participating in the October 5 Day of Action.  Local organizers will have a specific action planned – likely a door-to-door, phone-a-thon, tabling event, or some other creative outreach opportunity for volunteers to tap into – and VECAN will direct volunteers to the nearest local action, or an action in need of more volunteer support.  Please consider signing up today and we'll keep you posted with updates to the local event list as we receive more details!
"Vermont has long been a leader on energy efficiency, but we still have a long way to go in meeting our state's home energy goals. Button Up day will be a chance to celebrate our communities – and take real actions to move the state forward while helping Vermonters save money on their energy bills this winter."
–Jim Merriam, Director of Efficiency Vermont
Local Organizers Needed
Is your community missing from the local event list?  VECAN can provide you with the resources to organize an action!  Contact Keil Corey at kcorey@vnrc.org or 802-223-2328 x118 if you would like to help organize an action in your community.
————————————————————————————————————————-
Find all resources for community organizers and volunteers here.

————————————————————————————————————————–
Take Action by Joining Our Button Up Day Social Media Campaign
————————————————————————————————————————–
————————————————————————————————————————–
Tips for Taking Action in Your Home on October 5th
Unable to volunteer on October 5th but still want to take action on tightening up your home for the winter?  The Sustainable Energy Resource Group (SERG) has a great list of Energy Saving Tips that can help individuals increase comfort and save money through conservation and air sealing.  Learn more on how you can take action here.  Other opportunities include the following:
Join other Vermonters by taking the Pledge on improving energy efficiency in your home.
Get free immediate feedback on your home heating efficiency by using SERG's Home Efficiency Calculator.
Read Efficiency Vermont's recommendations for saving energy – and money – in their Energy-Saving Tips guide.
Efficiency Vermont's "How Efficient is Your Home?" worksheet offers an easy way to estimate the relative energy efficiency of your home.
—————————————————————————————————————————