2015 VECAN Conference
VECAN Conference 2015
Workshops A
Workshops B
Keynote
Community Energy Awards
Thank you to our sponsors!
Bob the Green Guy's Conference Coverage – Keynote Video and More!
Opening Remarks from Congressman Peter Welch
Workshops A
A1 A Suite of Solar Solutions
Growing numbers of people, businesses, communities and institutions are investing in solar to save money, stabilize their electricity costs and help combat climate change. There are a myriad of approaches — and some urgency to invest, as the 30 percent investment tax credit expires after 2016. This workshop will overview various solar approaches and resources communities can tap to help move great projects forward, as well as some of the challenges that could stop or slow the deployment of solar. It will also highlight a particularly innovative, community-owned approach that several towns are replicating.
Roland Marx, Boardman Hill Solar Farm
Johanna Miller, Vermont Natural Resources Council/VECAN
Gabrielle Stebbins, Renewable Energy Vermont
A2 The Legislative Look Forward
State policy will play a powerful role in how or if Vermont meets its necessarily ambitious clean energy and climate goals. This workshop will provide an overview of likely energy and climate-focused initiatives in the 2016 legislative session. What's the fate of net metering in Vermont? Will there be any changes to how energy generation is sited? What is the possibility of putting a price on carbon pollution? The conversation will also highlight how local leaders can help shape this important policy-making arena.
Senator Christopher Bray (Addison County)
Representative Robin Chesnut-Tangerman (Rutland-Bennington)
Amy Shollenberger, Action Circles
A3 Measuring, Assessing and Prioritizing Energy Action
Ready to learn the secret to your success as an energy committee? To discover tools that will help you communicate with your community and win over your selectboard? To prioritize projects that can maximize your impact? Join us for an overview of the new Community Energy Dashboard and the Strategic Energy Action Toolkit, as well as participate in a hearty discussion of what's possible if we come together to measure, assess, and prioritize energy action.
Leigh Cameron, New England Grassroots Environment Fund
Sarah Simonds, Vital Communities
Linda McGinnis, Energy Action Network
Lester Humphreys, Brattleboro Energy Committee
A4 Toward Net Zero Energy Homes
The story of home energy is changing rapidly and in ways that may surprise you. Come explore the concept of moving existing Vermont homes to net zero energy.  Can the combination of deep efficiency improvements in the thermal envelope, improvements to the heating system and renewable energy really move our existing housing stock toward net zero energy?  Learn about the results of a year-long study of Vermont homes, the story of how one home recently crossed the finish line and plans to accelerate "comprehensive energy" projects in Vermont.
Li Ling Young, Efficiency Vermont
Malcolm Gray, Building Performance Professional Associations of Vermont
Peter Jones, Homeowner
A5 Energy Financing Options and Opportunities
The upfront cost of energy improvements can be a barrier to many important projects. Come learn how several new, innovative and affordable financing programs can help towns, businesses and homeowners make energy efficiency and renewable energy investments and save money at the same time.
Mark Kelley, Vermont Energy Investment Corporation
State Treasurer Beth Pearce
Bob Walker, Sustainable Energy Resource Group
A6 Regional, State and New England Grid Planning: Why It Matters
Meeting 90 percent of  Vermont's energy needs – heating, transportation and electricity – with renewable sources will be  a balancing act of cost, climate, community and technology considerations. The fulcrum of that balance is good planning – in Vermont regions, the state and at the New England grid level. This workshop will provide an update on deep energy planning underway in three Vermont regions, outline the driving framework of the 2015 Comprehensive Energy Plan, highlight the current state of Vermont's grid and examine how innovation may help us achieve a clean energy transformation.
Jim Sullivan, Bennington County Regional Commission
Asa Hopkins, Vermont Public Service Department
Tom Dunn, VELCO
A7 Pioneering New Ways to Tackle Rural Transportation
Our transportation system is a promising frontier we must cross to meet Vermont's ambitious goal to be 90 percent renewable by 2050. It also presents big challenges for our rural state. Vermont is committed to supporting ways to make the shift to a "shared mobility economy" through innovative models, programs and services for all. Learn about a community effort to support safe roadways for biking, how eAssist bikes are improving mobility for young and old, Vermont's plans to pilot a smartphone app and on-demand access to more affordable transit options and more.
Laura Asermily, Middlebury Selectboard/Energy Committee
Dave Cohen, vBike Solutions
Deb Sachs, Community Climate Action
Workshops B
B1 
Talking Solar in 2016: Strategies for Success
Building the momentum needed to transition to clean energy, will require positive examples, person-to-person engagement and good planning. It will also require putting pen to paper to tell the stories of how solar is working well in Vermont for people of all incomes, farmers, businesses, municipalities and more. This workshop will outline communications strategies and messages to help collectively create a better-informed public dialogue around how solar helps Vermonters reduce their energy costs and their contribution to climate change.
Johanna Miller, Vermont Natural Resources Council/VECAN
Andrea Colnes, Energy Action Network
Fran Putnam, Weybridge Energy Committee

B2 Renewable Energy for Municipalities and Schools
Towns across Vermont are investing in renewable energy and reducing their reliance on fossil fuels. This panel will showcase several municipal solar and wood heat success stories and help you determine what projects might be right for your town. What makes a good candidate for wood heat? What models are available for municipal solar projects? Where do you start? Join us to find out.
Anne Margolis, Vermont Public Service Department
Jeff Forward, Forward Thinking Consultants
Bob Spencer, Windham Solid Waste Management District

B3 Pricing Carbon Pollution in Vermont
There is an effort underway in Vermont to explore the economic and environmental benefits of putting a price on carbon pollution. Two bills have been introduced in the Legislature, and an increasingly vibrant public conversation is underway. This workshop will outline the policy framework under discussion and the work of a growing, diverse coalition to help Vermont advance a fair, forward-looking and favorable price on pollution.
Mary Sullivan, State Representative from Burlington
Lauren Hierl, Vermont Conservation Voters
Ben Walsh, VPIRG
B4 Community Resiliency Planning and Action
Vermont's Irene recovery prompted communities across our state to take a hard look at their flood hazards and work on building resilience.  That's critical, but doesn't true community resilience need to address much more than flood hazards?  Come learn about what the state and federal government are encouraging and requiring from towns to address today's risks to communities, and join a discussion on "what is community resilience?" and what towns are doing to make an impact. Learn about the new Community Resilience Organizations, and their "Self-Assessment Tool" that includes action on energy efficiency and independence.
Sarah McKearnan, Vermont Agency of Natural Resources
Peg Elmer Hough, Community Resiliency Organizations
Dylan Kreis, Community Resilience Organization of Hartford
B5 Whole Community Models for the Energy Transformation
Cross-sector, community-level action to tackle climate change will require real innovation. In Denmark, an inspiring public-private partnership is turning the climate challenge into economic opportunity. Learn how business leadership in a city of 27,000 is achieving results — and how Vermont economic development officials are inspired by their action. Hear about a nascent Net Zero Vermont initiative that aims to complement existing private and public efforts to foster fossil fuel-free communities across the Green Mountain State.
Leif Rasmussen, Vermont Agency of Commerce and Community Development/University of Southern Denmark
Ken Jones, Vermont Agency of Commerce and Community Development
Dan Jones, Net Zero Vermont Ventures/Montpelier Energy Advisory Committee

B6 Town Energy Committees: Strategies and Success Stories
Vermont's grassroots energy committees are building our clean energy future from the ground up. This workshop will provide new – or newly motivated ­­– committees and energy leaders with strategies and action ideas to carry your communities forward, highlighting the diverse, successful approaches of two committees. In addition, learn about new resources to support your efforts – and share your ideas on how VECAN can help strengthen your goals.
Rich Phillips, Marshfield Energy Committee
Pete Thoenen, Randolph Energy Committee
Middlebury College Students, Community Energy Dashboard
Ben Civiletti, Vermont Energy and Climate Action Network

B7 Saving Energy through Behavioral Tools
Efficiency Vermont is tapping into the huge potential of behavioral savings by engaging customers through home energy reports.  Come learn some of the theory behind behavioral savings, results to date from Efficiency Vermont's customer engagement efforts, and tools to drive savings such as the customer engagement web portal. Share your ideas on how local energy committees can utilize behavioral tools to drive energy savings in your community.
Jason Lenihan, Efficiency Vermont
Nick Lange, Vermont Energy Investment Corporation
Keynote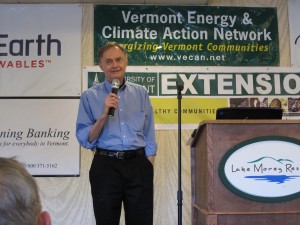 Vermont's Renewable Energy Transformation: An Economic Opportunity and Environmental Imperative
 Richard Heinberg is a Senior Fellow at the Post Carbon Institute, a nonprofit organization dedicated to building more resilient, sustainable, and equitable communities. Richard is widely regarded as one of the world's most effective communicators on the urgent need to transition away from fossil fuels. He is a frequent presenter on radio, television, and in films, and the author of 12 books, including The Party's Over, The End of Growth and Snake Oil. Richard has penned scores of essays and articles that have appeared in such journals as Nature, The American Prospect, Public Policy Research, Quarterly Review, The Ecologist, European Business Review, Yes! and The Sun. He offers a wry, pragmatic, unflinching approach based on facts and realism. He will outline the tenuousness of our current way of life and provide a vision for a truly sustainable future. He will also highlight the economic and environmental opportunities provided by Vermont's transition to a society powered by efficiency, renewables and 21st century transportation solutions.
Community Energy Awards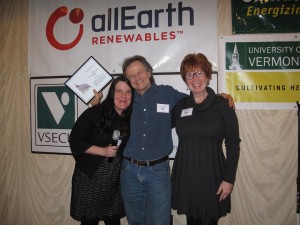 Lifetime Achievement – Bob Walker
Bob Walker of Thetford is a co-founder of VECAN, and a long-time partner in building and strengthening Vermont's network of energy committees. He received a lifetime achievement award this year in recognition of his amazing work and vision, which largely contributed to the success of grassroots energy action in our state. As he steps back from the day-to-day organizing that he has done so well,  he can look back on an incredible list of achievements and a strong network of motivated activists that will carry his work forward. And of course – we expect to see him heavily involved in the years to come – albeit in a less formal role. Thank you Bob for all you have done and will continue to do!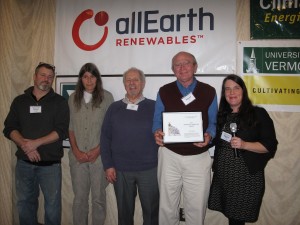 Individual Energy Leadership – Richard Phillips
In 2007, Rich Phillips helped found the Marshfield Energy and Climate Change Committee and has chaired the successful committee ever since. The broad range of projects MECCC has undertaken under Rich's leadership is long, from a deep energy retrofit of the Old Schoolhouse Common to solar on the municipal building; from a town streetlight changeover to providing over 100 home energy assessments for Marshfield residents, the list of MECCC's local accomplishments is long. Rich has also often worked across communities, helping catalyze a new transit line from Montpelier to St. Johnsbury and providing home energy assessments to residents of other communities. Rich also routinely brings his hands-on experience to the state policy making arena as well. His fellow energy committee members have called Rich a "rock" and an "inspiration" – and he certainly is. Thanks for all you do, Rich!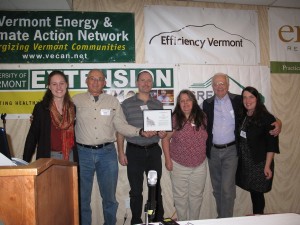 Best Energy Committee – Randolph
The Randolph Energy Committee has many recent successes to celebrate, ranging from completing a three-year streetlight project to helping over 40 homes go solar through a tri-town Solarize campaign. They also include hosting a successful energy expo and developing a community solar project for local residents who couldn't go solar on their own property. Modeled after the Boardman Hill Solar Farm, the solar array will provide its 33 member-owners clean solar electricity by the end of the year. According to committee member, Pete Thoenen, one secret to their success is momentum. "Even as volunteers come and go, the committee makes a conscious effort to continue building on our successes and move our community toward a more sustainable future," said Thoenen. Another secret is collaboration: "The partnership of our Select Board, town manager, neighboring communities and other public and private partners has been pivotal to moving from an idea to reality."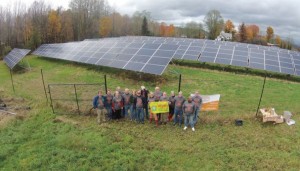 Best Project – Boardman Hill Solar Farm
Boardman Hill Solar Farm pioneered a distinctive community solar concept; a member-owned, low cost, 150 kW array, which provides 30 individual and business off-takers with what one catalyzer of the project, Roland Marx, calls "Vermont Grown and Vermont Green" energy. At the encouragement of the passionate host landowner, organic farmer Greg Cox, members agreed to retain and retire the project's Renewable Energy Certificates to help meet Vermont's renewable energy goals. BHSF leaders have also paved the way for more solar like it, sharing BHSF's legal and operating agreements widely and helping to make solar like this easier to replicate. Other communities in Vermont – including Randolph and Waitsfield – are bringing BHSF-like projects online within the year.

Thank You to our Fantastic Sponsors!
Special thanks to our Keynote Sponsor:

——————————————————————————————————————–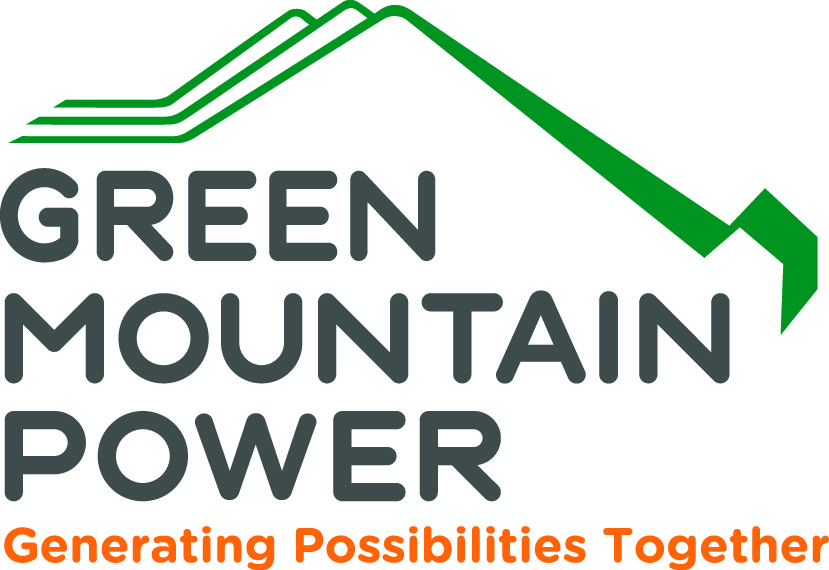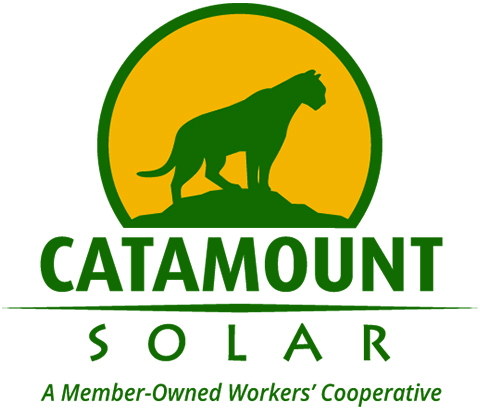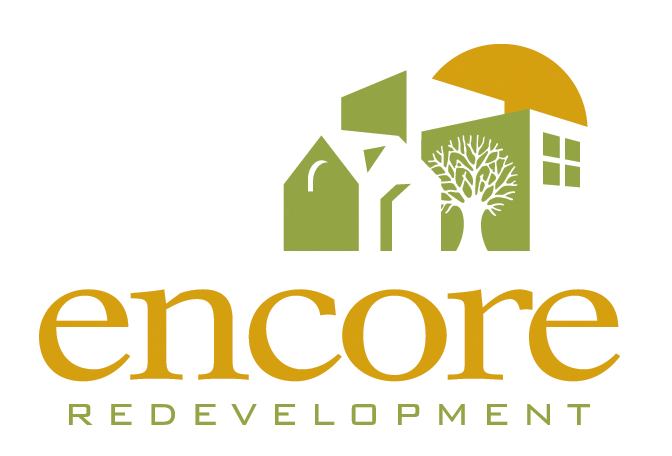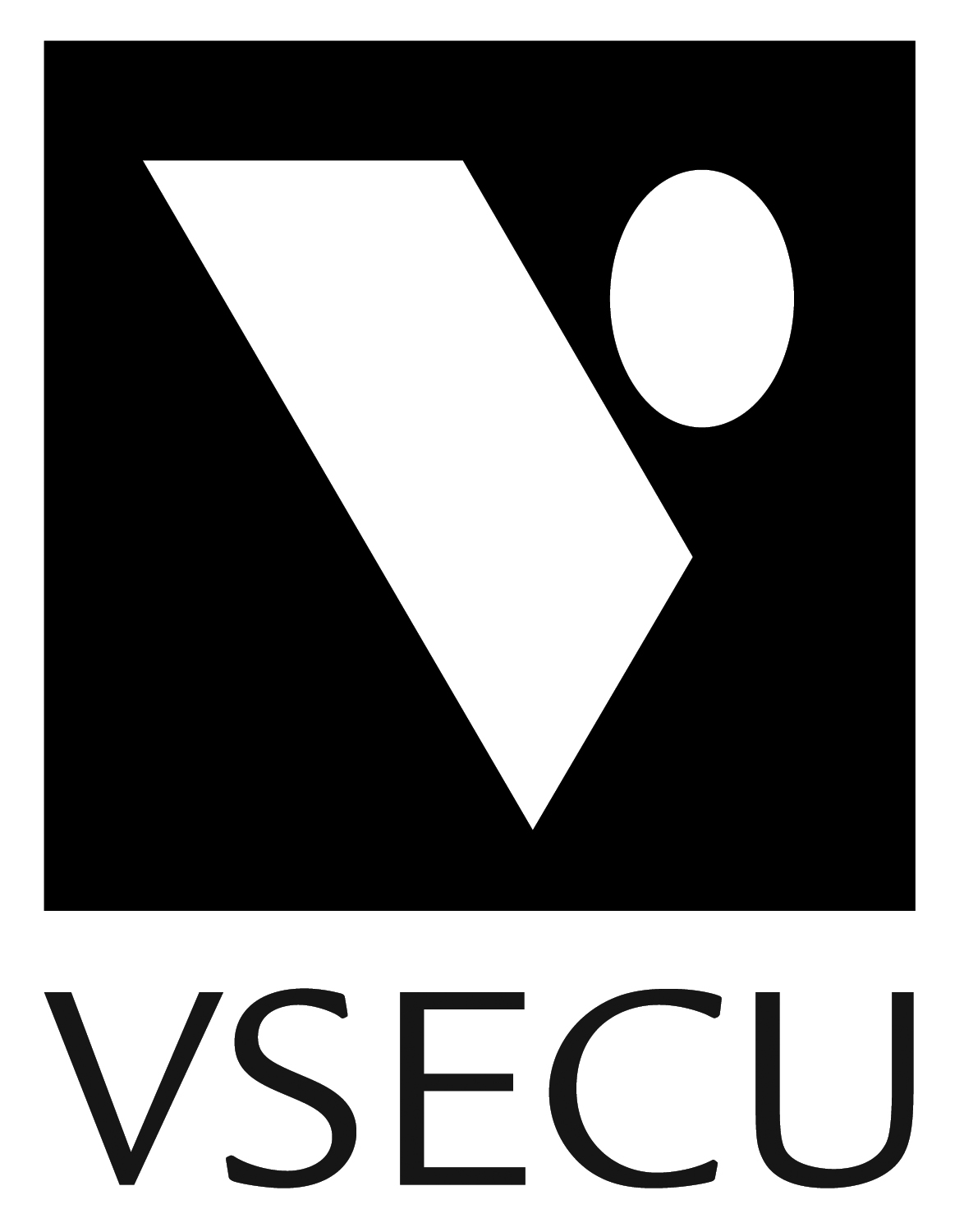 ——————————————————————————————————————–